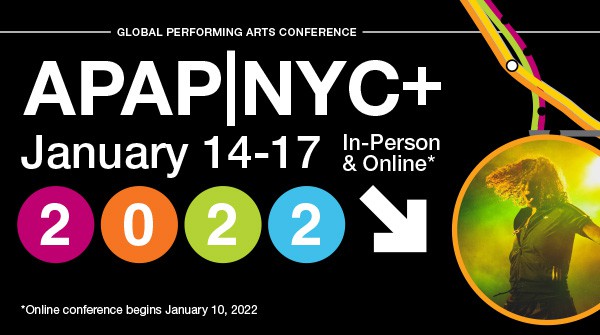 The premier networking event for the performing arts professionals in the presenting, booking, and touring field. APAP 2022 offers many opportunities to engage and network with your performing arts colleagues, and this year, activities will happen both in-person in New York City and online.
The in-person conference takes place January 14-17, 2022. The online conference begins January 10, 2022. Pre-conference activities happen December 6-8, 2021 and are free and open-to-the-public.
January 14th, 2022
Time: 11:30 AM – 12:30 PM
689 5th Ave # 3, New York, NY 10022, United States
At the heart of ETHEL is a collaborative ethos – a quest for a common creative expression that is forged in the celebration of community. In addition to premiering 21st century works by a broad range of groundbreaking composers, the quartet creates and tours rich, often multimedia, productions in which community engagement is a key element.
January 12th
Doors Open 6:30PM
44 E 32nd St, New York, NY 10016, United States
Becca Stevens is an American singer, songwriter, and guitarist who draws upon elements of jazz, chamber-pop, indie-rock, and folk. She has collaborated with artists including Jacob Collier, Laura Mvula, Billy Childs, David Crosby, and many others. Stevens has released five albums as a leader: Tea Bye Sea (2008), Weightless (2011), Perfect Animal (2015), Regina (2017) and Wonderbloom (2020).
January 13, 16, 18 & 20, 2022
Joe's Pub, New York, NY
See tickets for times.
425 Lafayette St, New York, NY 10003, United States
With indelible precision, weaving in and out of the audience, Migguel Anggelo connects past and present while unraveling the stereotypes that would otherwise constrain him. It is a queer, artful mashup of theater, humor, physical movement, and sumptuous song selections – spanning decades of pop hits, his own compositions, and the Spanish boleros of his youth. With equal doses of sensitivity and sensationalism, Migguel Anggelo reminds us that our own self-worth is right there in the mirror.
January 15th, 2022
TBD
TBD
Connect with Greg Kastelman